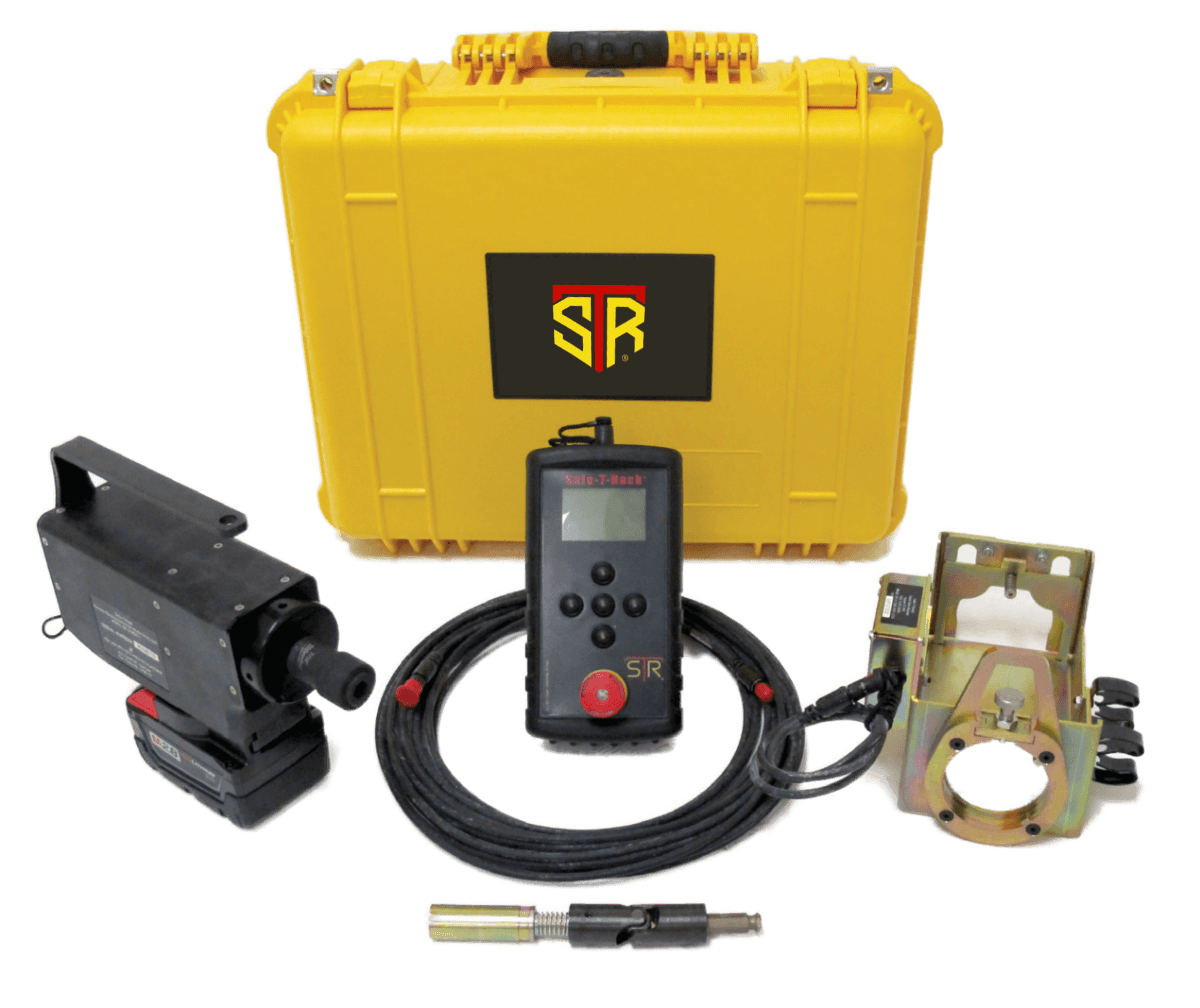 The Only Portable Remote Racking & Operation Device
Our Motor Drive Unit engages with over 300 products to rack every breaker on the market. If we don't have a bracket for your breaker, we'll custom build one.
With options including a No Mod (no modifications to the cubical or breaker with installation) series, we are constantly innovating our product to define the industry standards. Every bracket engaged with the MDU communicates with a Handheld Controller so every unique racking function can be controlled.
» Custom Specifications
We deliver a system that works with your existing switchgear infrastructure
» Smart Safety Features
Auto-shutoff and auto-disconnect to protect the operator and equipment
» Portable, Ergonomic Design
A remote racking device that's easy for your crew to move and use
» Precision Engineering
In-house design and manufacturing for responsive innovation
» Universal System
One drive unit mounts on any circuit breaker, powered by Milwakee batteries
» Safest Distance
Working distance up to 150 feet
Designed with your crew's
safety in mind.
"Safe-T-Rack is easy to install and use. It took less time to mount the system than wheel in our existing racking device that operators wouldn't take the time to use."
Jeremy P.
Cornerstone Machining
A solution for every breaker
Our Motor Drive Unit (MDU), pictured below, secures to over 200 different Smart Drive Brackets (SDB) to rack in/out every breaker in the field. If we don't have a SDB for a breaker, we design and build them in-house. The universal MDU does the hard work. Our SRU SDBs are zinc plated, lightweight, and durable.
Our SRU Smart Drive Bracket system allows us to custom-make a specific bracket for every individual breaker model. If we don't already have a bracket designed for your breaker in our inventory of over 300 different designs, we'll custom design one to fit your equipment.


Each bracket includes embedded logic and control cards containing application-specific parameters and automation control firmware. Our brackets know the exact racking procedure of the breaker without any user inputs, minimizing the chance of human error.
Application specific:
Battery charge indicator
Automatic App ID
Torque limited output
Emergency stop available
Automatic recovery for:
stall
Overtravel
Zero speed
Battery
The SR-U family proudly uses Milwaukee M18 and M28 series cordless power tool batteries. These provide ample energy for hundreds of different racking applications in our lineup. Two batteries are provided in the portable kit for quick field changes.
Cables
Included with the Handheld Controller, the SR-U control cable features high-cycle duty mating connectors. The cable assembly is available in 50-foot segments that can be tethered with three cables for up to 150 feet of safe distance for the operator.
Motor Drive Unit
The SR-U Motor Drive Unit is rated at 700W and has an integrated gearbox, digital drive unit, closed loop speed, and motor control. It's packaged in a resistant Delrin housing and features a quick-connect coupling and rotatable carrying handle.
The lightest on the market
Universal Handheld Controller (SR-U-HHC)
We designed the SR-U Handheld Controller (HHC) to operate with the SR-U family of tools. The operator has complete control and monitoring of every step of the breaker racking sequence. The HHC is packaged in a high- impact polymer case designed to withstand the daily wear and tear associated with heavy, industrial, and utility environments. Coupled with any of our Smart Drive Brackets, the Handheld Controller is the lightest and most durable operating tool on the market.